Fully Waymarked Route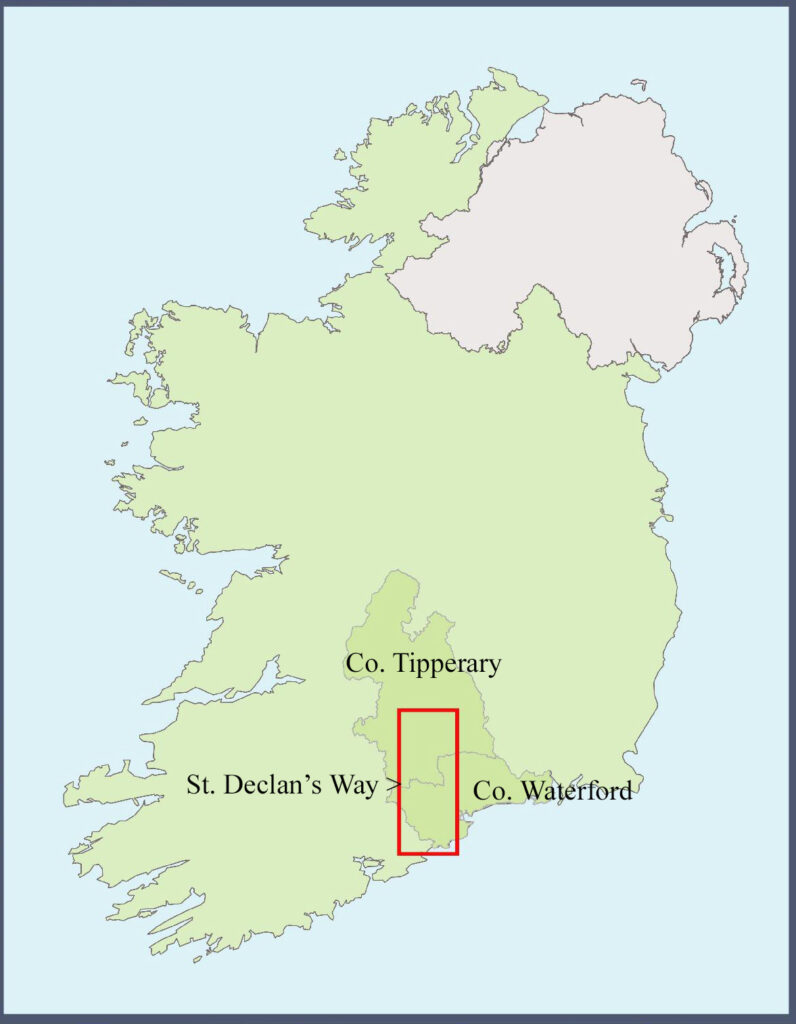 The entire route of St. Declan's Way, through South Tipperary and West Waterford, is now fully waymarked. It can be freely walked by anybody who wishes. Just follow the blue St. Declan's Way arrows (with added SDW Duibhín Deaglán Navigation arrows). It passes through Cashel, Cahir, Ardfinnan & Goatenbridge in South Tipperary as well as Mount Melleray, Lismore, Cappoquin, Aglish and Ardmore in West Waterford.
Stages
There are no official stages on the route, but walking from Cashel to Ardmore, St. Declan's Way breaks naturally into five approximately 20km stage lengths which are:
Cashel to Cahir – 20km – flat terrain on back roads.
Cahir to Goatenbridge – 20km – flat terrain on back roads & tracks (see note on diversion above).
Goatenbridge to Lismore (via Mount Melleray) – 30km, over the Knockmealdown Mountains. Mountainous terrain on forest trails & back roads.
Lismore to Aglish – 21km – flat terrain on back roads & tracks.
Aglish to Ardmore – 20km – flat terrain on back roads, tracks & finishing along beach.
It is possible to walk the route in either direction. Walking north to south (Cashel to Ardmore) just gives a more natural flow and you will ultimately complete the route at the seat of St. Declan, along the beach in Ardmore, which is a fantastic finish point.
History
St. Declan's Way is a modern route which follows a number of ancient pilgrim pathways including St. Declan's Road, Casán na Naomh (path of the saints), Bóthar na Naomh (road of the saints) and the Rian Bó Phadraig (track of St. Patrick's cow). The route was first described in detail by Canon Patrick Power in 1905. Ardmore Enterprise Co-operative produced a wonderful map brochure in 1994 which is still in circulation. The brochure lists 64 sites of historic, natural and archaeological significance along St. Declan's Way. The route shown was also described by Siobhan Lincoln of Ardmore in her book 'Along St. Declan's Way.'
Some changes have been made to these earlier routes for safety and environmental reasons. The route which has been waymarked and signposted starts in Cashel, passes through Cahir and Ardfinnan and over the Knockmealdown Mountains to Mount Melleray Abbey. It then heads into Lismore and follows the Blackwater to Cappoquin. From here it proceeds east along Bóthar na Naomh and swings south at Knocknaskagh towards the final destination, Ardmore.
Maps
The St. Declan's Way Route was sanctioned by Sport Ireland (Click link for Sport Ireland map) in July 2021 (or scan QR code on the right for SDW page and interactive map).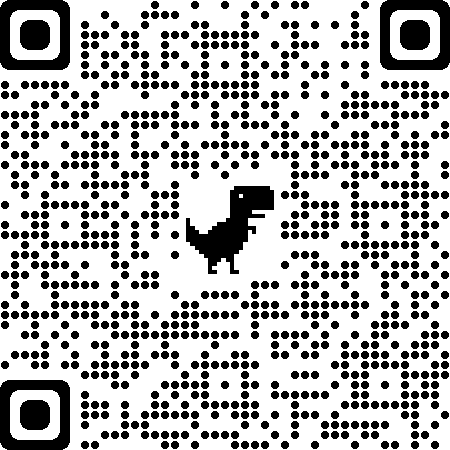 Printed and PDF map brochures are being commissioned, and will be available on this site once they have been produced.
You can find a GPX version of the route here, this can be downloaded to devices with mapping software.
Click on the map graphic below for the St. Declan's Way route on Google Maps which can be downloaded to phones and other mobile devices: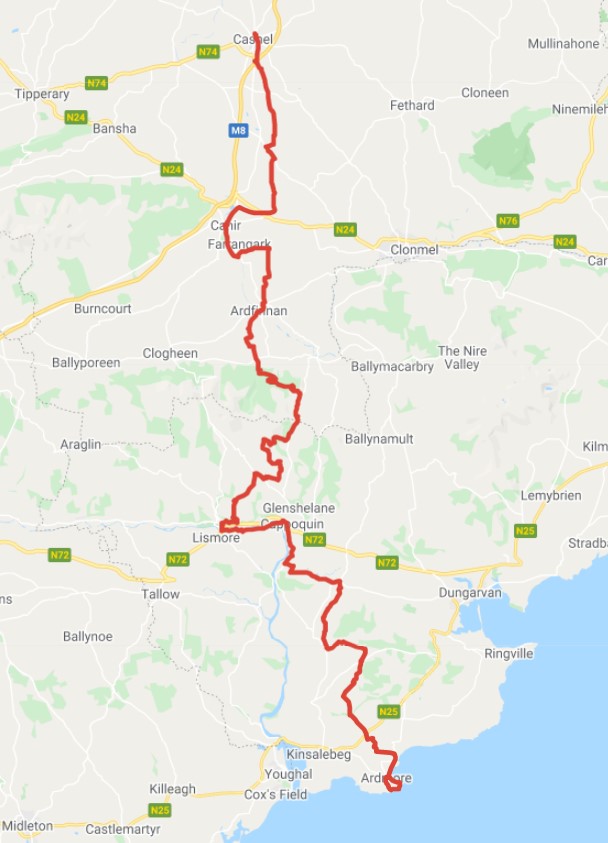 Click on the link below for a PDF overview map of the St. Declan's Way route: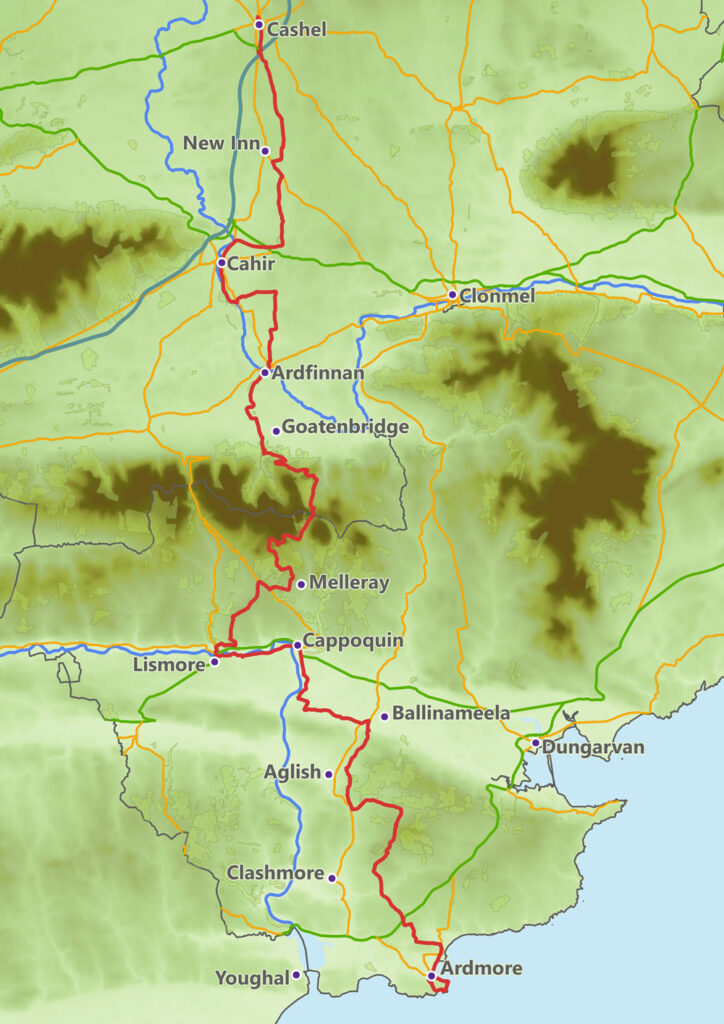 The Mountain Section
If you would like more cartographic information on the mountain section of the route and its surrounds, very detailed maps (1:25,000) of the Knockmealdown Mountains are available from East West mapping (https://eastwestmapping.ie)
The company also provides a phone app ('EastWest Maps' on the Play Store on Android or AppStore on iPhones) to use the digitised versions.