Places to Stay along St. Declan's Way. Please note, none of these are recommended by St. Declan's Way, they are merely provided for the convenience of those wishing to walk the path. Walkers will need to make their own investigations as to whether any accommodation suits their purposes. If you have accommodation along the route and wish to have it listed please send an email to [email protected].
This accommodation list presumes travelling from Cashel to Ardmore, which is recommended, as the stages become more interesting as they head over the Knockmealdown Mountains into Waterford. The five natural approximately 20km long stages along this route are:
Stage 1: Cashel to Cahir; Stage 2: Cahir to Goatenbridge; Stage 3: Goatenbridge to Lismore; Stage 4: Lismore to Aglish; Stage 5: Aglish to Ardmore.
Co. Tipperary:
First Stage – Cashel to Cahir 
Cashel
Bailey's Hotel – baileyshotelcashel.com
Cashel Town B&B – cashelbandb.com
Cashel Hostel – cashelhostel.com
Rockville House B&B – rockvillehousebb.com
Ashmore House B&B – ashmorehouse.ie
Cahir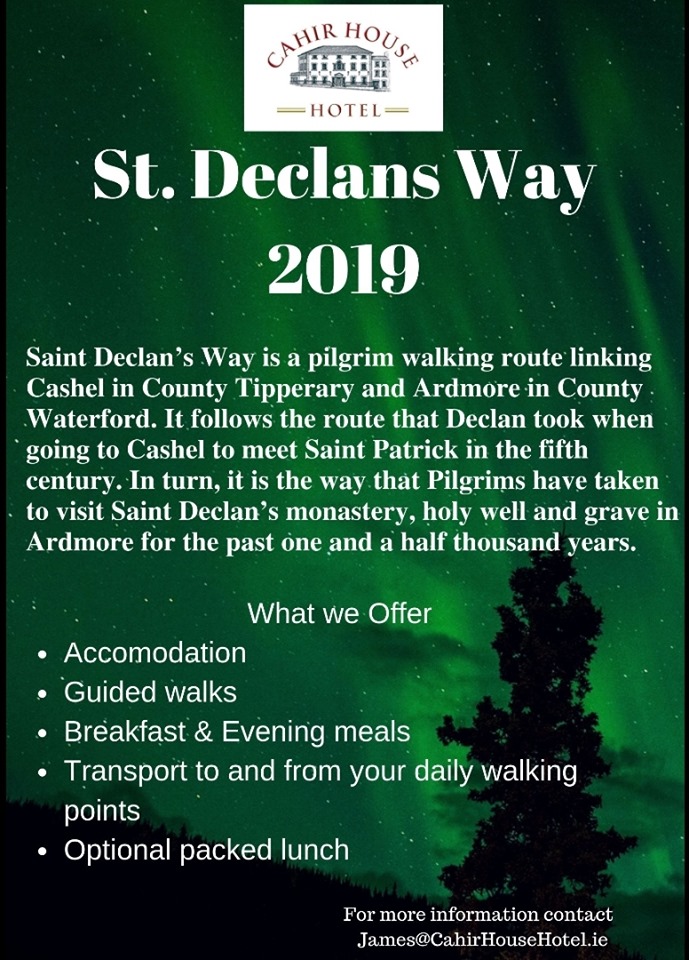 In Cahir town:
Cahir House Hotel – cahirhousehotel.ie
Tinsley House – www.tinsleyhouse.com
Carigeen Castle B&B – carrigeencastle.com
Outside the town:
Castle Gardens – castlegardensbnb.com 
Hollymount House – hollymounthouse.ie
Kilcoran Lodge Hotel – kilcoranlodge.net
Second Stage – Cahir to Goatenbridge           
Goatenbridge
There is no accommodation in Goatenbridge itself. These are the closest:
Newcastle/Ballymacarbry
Kilmaneen Farmhouse – www.kilmaneen.com
Glasha Farmhouse – www.glashafarmhouse.com
Clogheen
The Sallows Hostel – www.thesallows.ie
The Old Convent – www.theoldconvent.ie.
_____
Co. Waterford:
Third Stage – Goatenbridge to Lismore – Note: This stage crosses the Knockmealdown Mountains and will require a modicum of fitness. It is also longer than 20km (about 24km). All the other stages are relatively flat and shorter than this.   
Mount Melleray
The Pilgrims Rest – www.thepilgrimsrest.com
Mount Melleray Abbey Guest House – www.mountmellerayabbey.org/guesthouse
Lismore
Ballyrafter House Hotel – ballyrafterhouse.com   
Cappoquin
Richmond House – richmondhouse.net
Fourth Stage –Lismore to Aglish 
Close to Aglish 
Wing Old School House – www.airbnb.ie/rooms/3244240
Jacks Cottage – www.airbnb.co.uk/rooms/266017
Fifth Stage –Aglish to Ardmore 
Ardmore
Round Tower Hotel – www.roundtowerhotel.ie
Cliff House Hotel – cliffhousehotel.ie
Sea Pearl BnB – www.booking.com/hotel/ie/sea-pearl.html
Ardmore BnB – ardmorebedandbreakfast.ie
Newtown Farm Country House – www.newtownfarm.com