St. Declan's Way in the Lonely Planet Guide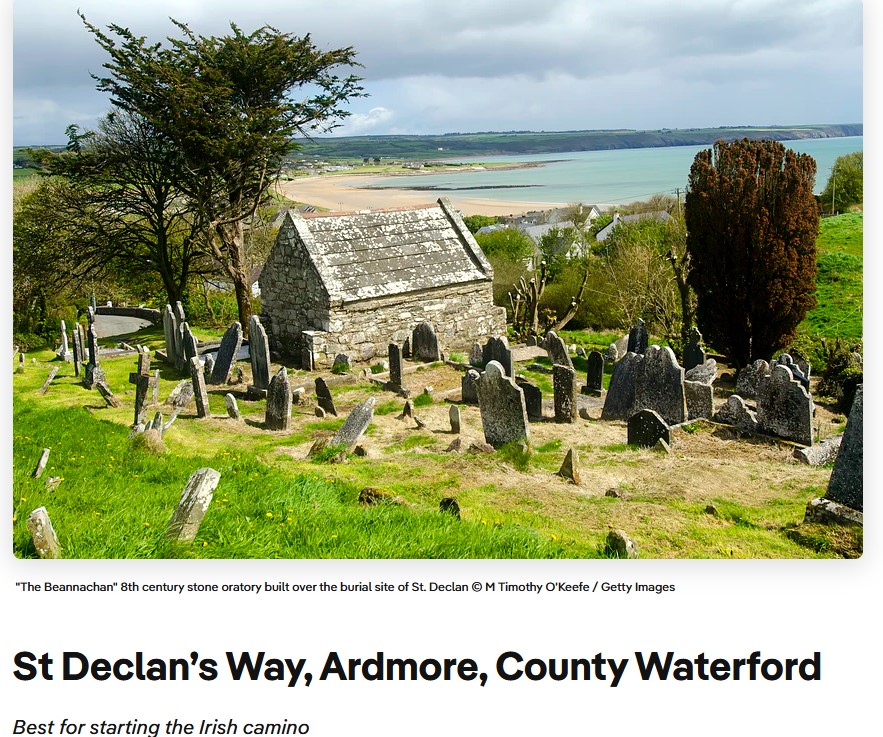 It is great to see St. Declan's Way and the Rock of Cashel get mentions in positions 10 and 11 in the Lonely Planet's 21 most incredible places to visit in Ireland – https://bit.ly/3F6MgLJ.
The two entries get the following recommendations:
St Declan's Way, Ardmore, County Waterford
Best for starting the Irish camino
The seaside village of Ardmore was once one of the most important Christian settlements in Ireland.  Today's visitors come mainly to enjoy the beaches (both the town strand and secluded Ballyquin Beach), as well as water sports and bracing coastal walks. The Irish Camino, St Declan's Walk, starts from Ardmore through 56 miles (96 kilometres), crossing the Knockmealdown Mountains to Cashel in County Tipperary. Follow the blue signposts along the route and consult this local website for advice. The five star Cliff House Hotel in Ardmore is a destination hotel. If budgets allow, the eight course menu in the Michelin-star House restaurant is something to savour.
Rock of Cashel
Best for a Game of Thrones-like location
Soaring up from the green Tipperary pastures, this  ancient fortress takes your breath away at first sight. The seat of kings and churchmen who ruled over the region for more than 1000 years, it rivalled Tara as a centre of power in Ireland for 400 years. Entered through the 15th-century Hall of the Vicars Choral, its impervious walls guard an awesome enclosure with a complete round tower, a 13th-century Gothic cathedral and the most magnificent 12th-century Romanesque chapel in Ireland. Entry is free, but tickets must be reserved online.
___
The two attractions in Waterford and Tippeary are selected along with a raft of other famous locations such as 'The Cliffs of Moher', 'The Giant's Causeway' and the 'Wild Atlantic Way'.