St. Declan's Way 2023 – Booking Now Open
We are delighted to announce that booking is now open for the Knockmealdown Active organised five stages of St. Declan's Way in 2023. Keep an eye on our Facebook Page for updated information as it draws nearer to the event dates.
If you are interested in taking part, please note the following dates:
March 18th – Cashel to Cahir
March 19th – Cahir to Goatenbridge
April 8th (Holy Saturday) – Goatenbridge to Lismore – in association with Pilgrim Paths Week 2023.
April 29th – Lismore to Aglish
April 30th – Aglish to Ardmore
All stages are approximately 21/22km long, with the exception of stage 3, which is around 28km. Stage 3 crosses the Knockmealdown Mountains, via Mount Melleray, and is the only stage with a significant ascent.  See a map of the route and stages at the bottom of the page.
To be notified as it come closer to the dates, you can Like and Share our
Facebook Page
. You will then be updated on all news relating to the event.
You can find details of other events happening on Pilgrim Paths Week (the period around Easter) on the website at
www.PilgrimPath.ie
.
If you wish to book, click on the link below, or read on for further information on the event.
—
The 115km route is divided into the following five stages for the purposes of this event, walking from Cashel on March 18th and finishing in Ardmore on April 30th (May bank holiday weekend).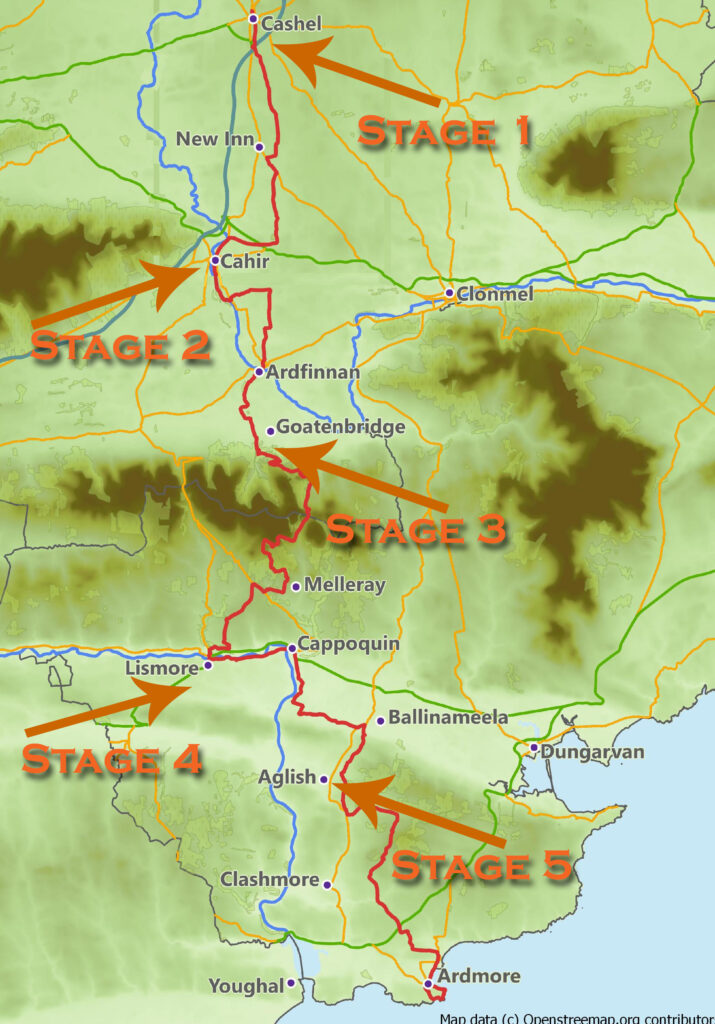 The Knockmealdown Active group, which boasts significant expertise in such event management, is once again organising this five stage guided walk of the entire route.
Stages are approximately 21/22 km each, run during March & April as follows:
First Stage: Saturday March 18th– Cashel to Cahir (park in Cahir, bus to Cashel, walk to Cahir) – approx. 22km – mainly flat back roads.
Second Stage: Sunday March 19th – Cahir to Goatenbridge (park in Goatenbridge, bus to Cahir, walk to Goatenbridge) – approx. 21km – mainly flat back roads.
Third Stage: Saturday April 8th (Holy Saturday) – Goatenbridge to Lismore (park in Lismore, bus to Goatenbridge, walk to Lismore). Note: this stage crosses the Knockmealdown Mountains and will require a certain level of fitness. All other stages are relatively flat – 28km – back roads & forest trails. This stage is part of the Pilgrim Paths Week 2022 celebration.
Fourth Stage: Saturday April 29th – Lismore to Aglish (park in Aglish, bus to Lismore, walk to Aglish) – 21km – mainly flat back roads.
Fifth Stage: Sunday April 30th – Aglish to Ardmore (park in Ardmore, bus to Aglish, walk to Ardmore)- 22km – mainly flat back roads & cleared tracks – finishes along the beach.
Participants must:
Be over 16 years of age (or accompanied by an adult).
Be in a fit physical condition.
Have reasonable walking experience.
Have wind and waterproof clothing & wear suitable footwear.
Bring a fully charged mobile phone.
Sign in at the start and finish check points on the day.
Pay the entry fee in advance (booking will be online only) or pay using a Gift Token.
No dogs allowed – unfortunately we are not in a position to cater for them.
Accommodation
Any accommodation participants may need is not included in the event price. If you are booking accommodation be sure to book it at the destination for the day's walk, otherwise you will have to organise transport to bring you back to where the walk began, e.g. for Stage One, book accommodation in Cahir, not Cashel. The bus will leave from Cahir car park in the morning, dropping participants to the Rock of Cashel. Walkers will then return to Cahir in the afternoon via the St. Declan's Way route. Here you can return to your car and drive home whenever you please.
You can find a list of available accommodation along the route on this link. Note, this accommodation list is not vetted or promoted by St. Declan's Way or Knockmealdown Active in any way, it is simply provided for the convenience of those who may need the information.