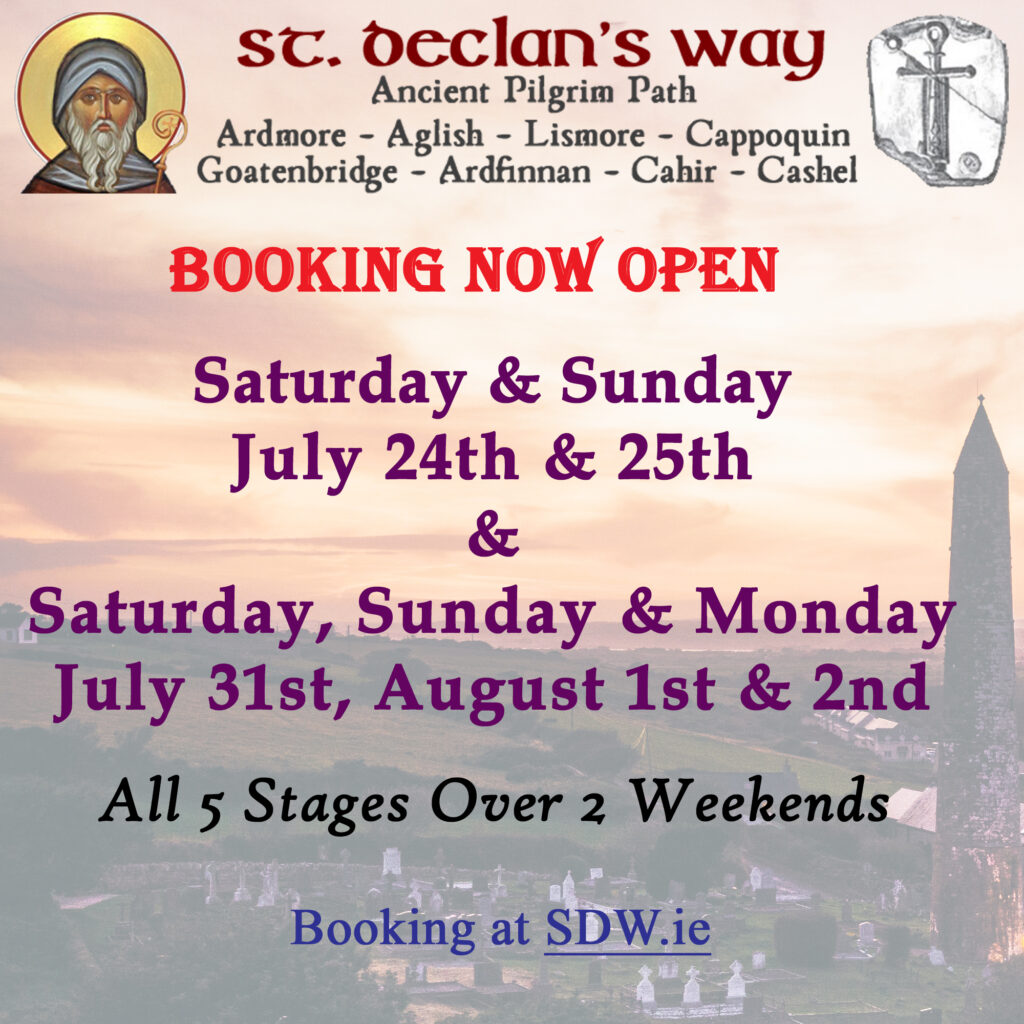 2021 is the year when the 104km long St. Declan's Way Pilgrim Path from Cashel to Ardmore comes into its own. 2019 year saw the launch of its own website (this one) at
www.stdeclansway.ie
. which has proven tremendously successful. The path also now has its own
Facebook Page
,
Twitter
 and
Instagram
Accounts, all of which are steadily gaining followers. The path's handle is
@StDeclansWay
on all social media.
In 2019 we had over 1,500 walkers across the five stages of St. Declan's Way which ran from April to August. The intention was to do it again last year, but as we all know, 2020 really didn't go according to plan.
This year we will cover the path in five stages again, this time over two weekends at the end of August and beginning of July.  The stages are approximately 20km each:
Stage 1 – Cashel to Cahir – Saturday, July24th
Stage 2 – Cahir to Goatenbridge – Sunday, July 25th
Stage 3 – Goatenbridge to Lismore (over the Knockmealdown Mountains) – Saturday, July 31st
Stage 4 – Lismore to Aglish – Sunday, August 1st
Stage 5 – Aglish to Ardmore – Bank Holiday Monday, August 2nd
Ther is a slightly more detailed outline of these stages further down the page.
The price for the event is €150 for all 5 stages (there is a limited supply of the 'All 5 Stage' product, when they are gone, they are gone).
or
€35 per stage when booked individually.
The price includes buses to take walkers from their cars to the walk start point, team leaders and medics on hand during the event. It also includes a tea/coffee and a scone before the event and food at the end of each stage.
NOTE: In line with public health guidelines, normal bus capacity is reduced by 50%. For this reason, when booking, you'll be asked to choose to depart at 10am or 11am.
Participants should make sure to bring snacks and drinks for the duration of the walk.
–
If you already know what it is all about and just wish to book for the 2020 event you can do so above. Scroll down to read more about the event.
Stages are approximately 20 km each, run on the second Saturday of the month and are as follows:
First Stage: Saturday July 24th– Cashel to Cahir (park in Cahir, bus to Cashel, walk to Cahir) – approx. 18km – mainly flat back roads.
Second Stage: Sunday July 25th – Cahir to Goatenbridge (park in Goatenbridge, bus to Cahir, walk to Goatenbridge) – approx. 14km – mainly flat back roads.
Third Stage: Saturday July 31st – Goatenbridge to Lismore (park in Lismore, bus to Goatenbridge, walk to Lismore). Note: this stage crosses the Knockmealdown Mountains and will require a certain level of fitness. All other stages are relatively flat – 24km – back roads & forest trails.
Fourth Stage: Sunday August 1st – Lismore to Aglish (park in Aglish, bus to Lismore, walk to Aglish) – 18km – mainly flat back roads.
Fifth Stage: Bank Holiday Monday August 2nd – Aglish to Ardmore (park in Ardmore, bus to Aglish, walk to Ardmore)- 20km – mainly flat back roads – finishes along the beach.
Participants must:
Be over 16 years of age (or accompanied by an adult).
Be in a fit physical condition.
Have reasonable walking experience.
Have wind and waterproof clothing & wear suitable footwear.
Bring a fully charged mobile phone.
Sign in at the start and finish check points on the day.
Pay the entry fee in advance (booking is online only).
No dogs allowed – unfortunately we are not in a position to cater for them.
Accommodation
Any accommodation participants may need is not included in the event price. If you are booking accommodation be sure to book it at the destination for the day's walk, otherwise you will have to organise transport to bring you back to where the walk began, e.g. for stage one on July 24th, book accommodation in Cahir, not Cashel. The bus will leave from Cahir car park in the morning, dropping participants to the Rock of Cashel. Walkers will then return to Cahir in the afternoon via the St. Declan's Way route.
You can find a list of available accommodation along the route on this link. Note, this accommodation list is not vetted or promoted by St. Declan's Way or Knockmealdown Active in any way, it is simply provided for the convenience of those who may need the information. Some of these accommodation providers may not yet have not re-opened and may not be available.